Description
Chaos
V-Ray Solo
Finding the right way to render your content can be very difficult, and that's why it's imperative to use a tool like Chaos V-Ray Solo. If you buy Chaos V-Ray Solo online, it becomes easier to create some of the best and most impressive scenes and render them in real time. Plus, with so many different integrations and solutions, it becomes easier than ever to deliver an exceptional result and value, while pushing the boundaries in a very engaging and exciting manner.
What makes Chaos V-Ray Solo stand out is that it's already used in a large variety of award-winning applications. Feature films and TV series creators use it to deliver outstanding results, be it in Avengers movies or even Game of Thrones TV series. It offers exceptional ray traced rendering and a large variety of solutions. It's the reason why you want to get Chaos V-Ray Solo in India, because it's efficient and it gets the job done, while pushing the limits more than you ever expected.
The core advantage of Chaos V-Ray Solo is that it comes in the form of plugins/integrations with some of the top software on the market. You have Chaos V-Ray for 3Ds MAX, which can help with photorealistic rendering for designers, games, VFX and even VR. On top of that, you also have access to V-Ray for SketchUp, which can help create realistic projects and turn them to life.
Chaos V-Ray also has an integration for Rhino, which is a tool widely use for product design, automotive and architecture. And then we also have V-Ray for Maya, V-Ray for Revit and Cinema 4D. If you use Houdini, Unreal, Form-Z, Render Node, Nuke, AppSDK or Blender you can easily access all these integrations. All you need is a single Chaos V-Ray Solo license, it will give you access to all the integrations!
V-Ray Solo is an annual subscription license renewed each year.  It includes access to all the V-Ray products including upgrades and support during the term. This is a commercial license, which includes
V-Ray for: SketchUp, 3ds Max, Maya, Revit, Rhino, Cinema 4D, Houdini, Unreal, Nuke.
Includes Chaos Cosmos content library.
This is a Fixed license on one computer.  The products in the V-Ray Solo can work simultaneously on one machine only. Includes Support.
Compare Licensing Options: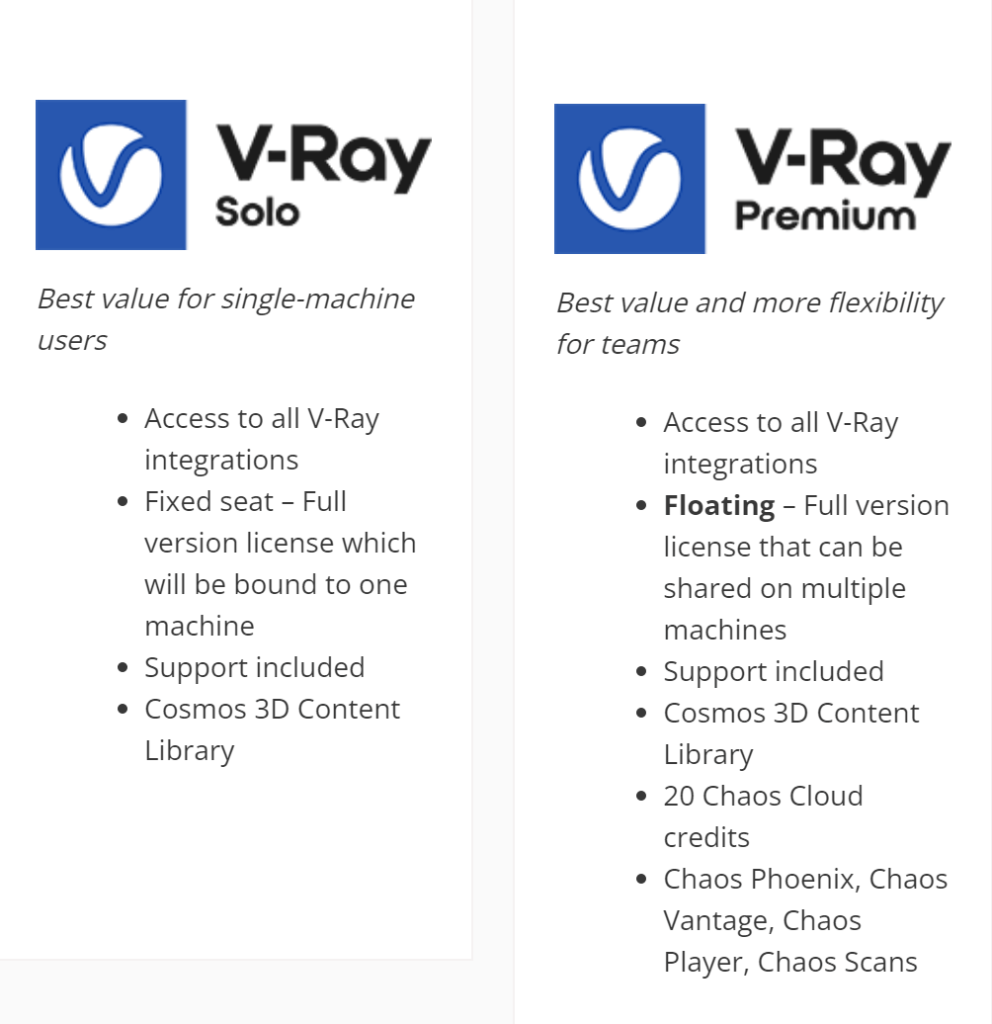 Buy Chaos V-Ray
Solo annual license Online in India
If you want to use Chaos V-Ray Solo in India, then the best way to do that is to buy an annual license. It's crucial to ensure that you buy a valid license from a company like Dolphin Computers and don't just use an invalid license. When you work in this niche, you always want to have a valid license, because that's what delivers the best results and experience. It's a great opportunity and it will offer you the value and benefits you always wanted.
In addition, if you buy Chaos V-Ray Solo annual license in India, you will have access to all the benefits and integrations. It's a stellar solution for anyone that wants state of the art rendering services and high power rendering at any scale. You can ensure that you render a single image over multiple machines thanks to distributed rendering. That helps immensely and it gives you the upper hand from a business perspective. It's an exciting premise and something you do not want to miss.
Another important aspect to consider is that Chaos V-Ray Solo integrates very well with your pipeline. It helps you get the job done, and at the same time you have a plugin for your favorite studio solution. Instead of being a pain, it delivers exactly the benefits that you need, while still pushing the limits and conveying the exact value for money and results that you might expect. It's one of those things that everyone wants to see, and the outcome can be nothing short of unique and different all the time.
Moreover, when you buy Chaos V-Ray Solo annual license in India, you can easily deploy and customize this tool to fit all your needs and requirements. This is a great tool because it can allow you to render scenes with V-ray and you can do it for the headless render-farm nodes too. Within Chaos V-Ray Solo you also get access to 2 software development kits and these can make it easier to customize your rendering process. These can even be used to build a custom pipeline tool set, which is extremely valuable and highly efficient for any type of business.
Why choose Dolphin Computers to
buy Chaos V-Ray Solo online?
If you want to buy Chaos V-Ray Solo in India, then Dolphin Computers is the ideal option to do so. Our company is here to provide you with professional, state of the art solutions and keys or licenses. We acquire these directly from manufacturers. So you can always rely on our team to deliver an exceptional experience and great results. On top of that, we are committed to value and we constantly offer great prices especially for bulk orders. That means you can rest assured our codes are legit, and you can use them for your business in no time.
With help from Dolphin Computers it becomes a lot easier to access all the Chaos V-Ray features in the apps you already use. You can even choose to buy licenses in bulk for the entire team, or a single license based on your needs. The Solo version gives you access to a fixed license for a single computer, and you receive support, all the V-ray integrations and access to the Chaos Cosmos library. Grab your own license for Chaos V-Ray Solo in India today, only via Dolphin Computers!