Description
Sketchup Pro
2022 Studio
Sketchup Studio is a subscription system created specifically for professionals. If you want to access the Sketchup Pro tool as well as 2D documentation, VR and AR viewing apps and many others, this is the perfect tool. That's why you want to buy Sketchup Studio online, because it's a great subscription that can help your company beyond beliefs.
One of the best things about Sketchup Studio is the fact that you have amazing designs, all of which are backed by data. The best part is that you can move designs with confidence, since you can view, import and model on the cloud, without even having any tool stored locally. You can also communicate the designs and make them photorealistic if you want. To make things even better, Sketchup Studio allows you to annotate models and drawings. You want to get Sketchup Studio online in India because it's a very powerful tool, really useful and high quality, and that does help you quite a bit.
With Sketchup Studio you can accurately model in 3D and create some of the top tier visuals that you can find on the market. You can even add things like real life textures, natural lighting, global lighting, atmospheric effects and so on. Sketchup Studio even has real time, high quality rendering, you can model on the point cloud data and also access cloud storage
SketchUp Studio
Annual Subscription
The SketchUp Studio Annual Subscription is a robust and complete package for Architecture, Engineering, and Construction (AEC) professionals. In addition to the SketchUp Pro desktop app, you will benefit from Scan Essentials for handling point cloud data, and V-Ray for presenting photo-realistic images of your projects.SketchUp Studio includes:
SketchUp Pro for Desktop
An easy-to-use user interface with intuitive tools for designing in 3D.
The latest version of SketchUp Pro introduces PreDesign whichis a new early-stage research tool that provides designers of buildings, outside spaces, and master plans with the information they need to properly factor climate insights into their initial concepts. PreDesign improves the end result by better informing designers with accurate information to influence preliminary solutions.
LayOut
The same easy-to-use UI and tools, but for designing in 2D. LayOut helps you show your client that you've captured what you have discussed, and move the project forward confidently. Never wonder if your drawings are clearly communicating what your intentions are. Clearly call out materials, lengths and details to your contractor, builder, or interior designer. Easily explain the intricate detail of one model, and show real-world scale all on one page.
---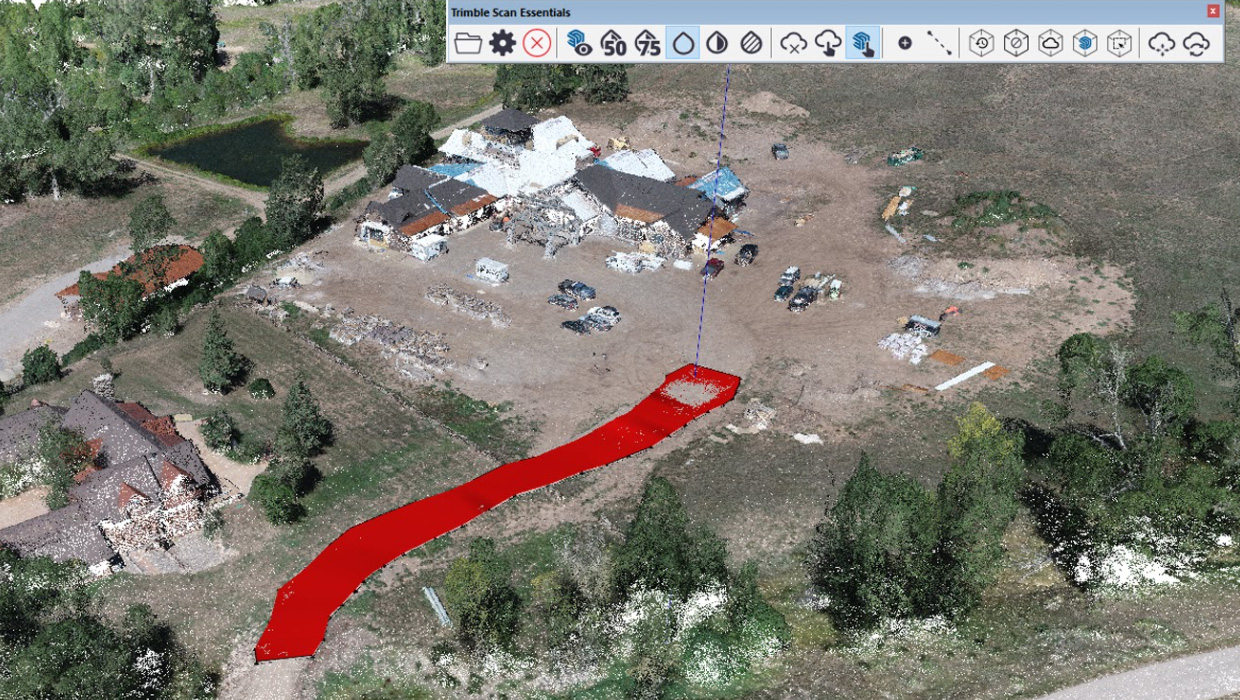 Scan Essentials
Scan Essentials for SketchUp is the most complete point cloud solution for modelling from scan data. This plug-in allows you to easily import point clouds, view them, and model directly on the points during model creation via SketchUp's native toolbox. Whether you import data from terrestrial scans, mobile mapping, photogrammetry, lidar sensors, or drone captures, the Trimble Scan Essentials plug-in makes your job easy and fast.
What makes this solution unique for SketchUp users in comparison to other point cloud applications is that Scan Essentials:
Uses SketchUp's native toolbox, converting scan data to models by snapping directly on the point clouds to ensure precision.
Supports very large point clouds without slowing down your SketchUp model.
Is intuitive to use with an easy learning curve.
Works with universal scanning file formats such as RWP, LAS/ LAZ, TZF, E57, recently added PLY (scanning from mobile devices such as iphone 12 and ipad pro).
Has an unique LayOut integration, exporting point cloud to LayOut and 2D documentation.
---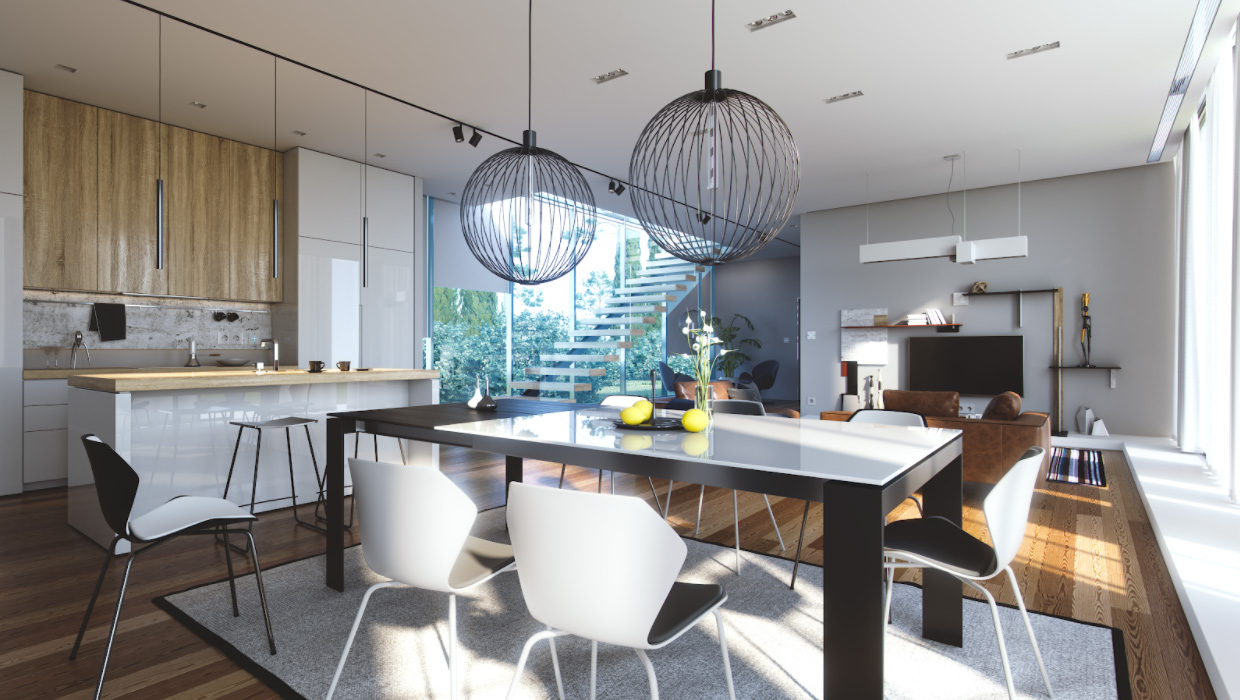 V-Ray
V-Ray 5 for SketchUp is a photorealistic, physically-based rendering solution that helps designers better visualize their models. Additional features include real-time rendering capabilities with V-Ray Vision, Chaos Cosmos for curated and render-ready 3D content, as well as access to Chaos Cloud.
V-Ray 5 now offers both real-time and photo-real rendering solutions offering a complete visualization package for architecture, engineering, and construction professionals. Chaos Cosmos — a high quality and curated render ready content platform is also part of the offering. Users can directly download content into Sketchup, drastically increasing efficiency without impacting performance.
What's included in Studio?
SketchUp Pro
SketchUp for Web
Mobile Viewer
XR Viewer
Trimble Connect Business
3D Warehouse
Extension Warehouse
PreDesign
V-Ray
Scan Essentials
Buy Sketchup Studio
online in India
If you want to use Sketchup Studio in India, it can be quite difficult to access the subscription with support and assistance. Dolphin Computers is able to help with that, and you will finally be able to access all these amazing, extraordinary features. 3D and 2D modeling can be very difficult and challenging without the right tools. This tool helps you achieve that and it helps push the boundaries and enhance the process in a way that's very important. All you have to do is to start using it and buy the Sketchup Studio in India, then results can be great.
With help from Sketchup Studio in India, you can finally create all kinds of projects for business or personal use that would be hard to do otherwise. This is indeed one of the premier Trimble solutions you can rely on, and the outcome can indeed be second to none.
Why choose Dolphin Computers for
Sketchup Studio online?
In order to acquire the best results and ensure that you have a working Sketchup Studio Trimble license, it's a very good idea to work with a reputable studio. That's where Dolphin Computers comes into play. The company has been around for a very long time. This way you know that you have a 100% genuine license and the results you receive are always among some of the best in the industry. Don't hesitate and rely on Dolphin Computers if you want direct access to some of the best solutions like Sketchup Studio, with genuine licensing and professional support!