Description
Chaos
 V-Ray Premium
Chaos V-Ray is a great solution, but the reality is that the Solo version can have quite a lot of limitations. That's why it's a very good idea to upgrade, and doing that can be extremely helpful. With that in mind, Chaos V-Ray Premium can be a stellar option to consider and one that will offer you a tremendous benefit and quality in the long term. That's definitely one of the most interesting features to keep in mind.
The role of Chaos V-Ray Premium is very specific, it allows you to access one of the top rendering software solutions in the world, while constantly pushing the limits and delivering a highly efficient system for you to work with. That's what makes Chaos V-Ray Premium a great option, because it's not only very fast, it offers great production features, and at the same time it was already used in many movies and TV series that won tons of awards. It's clear that this is the ultimate tool you can use for rendering, and it certainly delivers the type of value and results you want at the highest possible level.
Chaos V-Ray has a large variety of different integrations, which makes it very useful for some of the top 3D modeling and rendering software in the world. Chaos V-Ray seamlessly integrates with 3DS Max to deliver photorealistic CPU and GPU rendering. It also has integrations for SketchUp so you can bring more realism to your projects. Then you have Maya integrations for GPU and CPU rendering so you can work in VFX and animation with complex rendering features.
But the integrations don't stop here, since Chaos V-Ray also has plugins for Rhino, Cinema 4D, as well as Houdini, Unreal, Revit, Nuke, RenderNode, Blender, AppSDK and Form-Z. With these integrations, it becomes easier than ever before to add all the features you need in your existing software and boost your rendering system. In the end, you will have advanced rendering solutions for most of the best tools on the market, thanks to complex integrations that fit these apps perfectly.
This V-Ray Solo is an annual subscription license prepaid for 1 year.  It includes access to all the V-Ray products including upgrades and support during the term. This is a commercial license, which includes V-Ray for: 3ds Max, Maya, SketchUp, Rhino, Revit, Unreal, Nuke, Houdini, Cinema 4D, Chaos Cosmos, Chaos Cloud**, Chaos Phoenix, Chaos Vantage, Chaos Player, Chaos Scans.
**Free starting pack of 20-credits.
The products in the V-Ray Collection can work simultaneously on one machine only. Note, since the Collection is a floating license, it can be moved between machines and users as required.
Compare Licensing Options: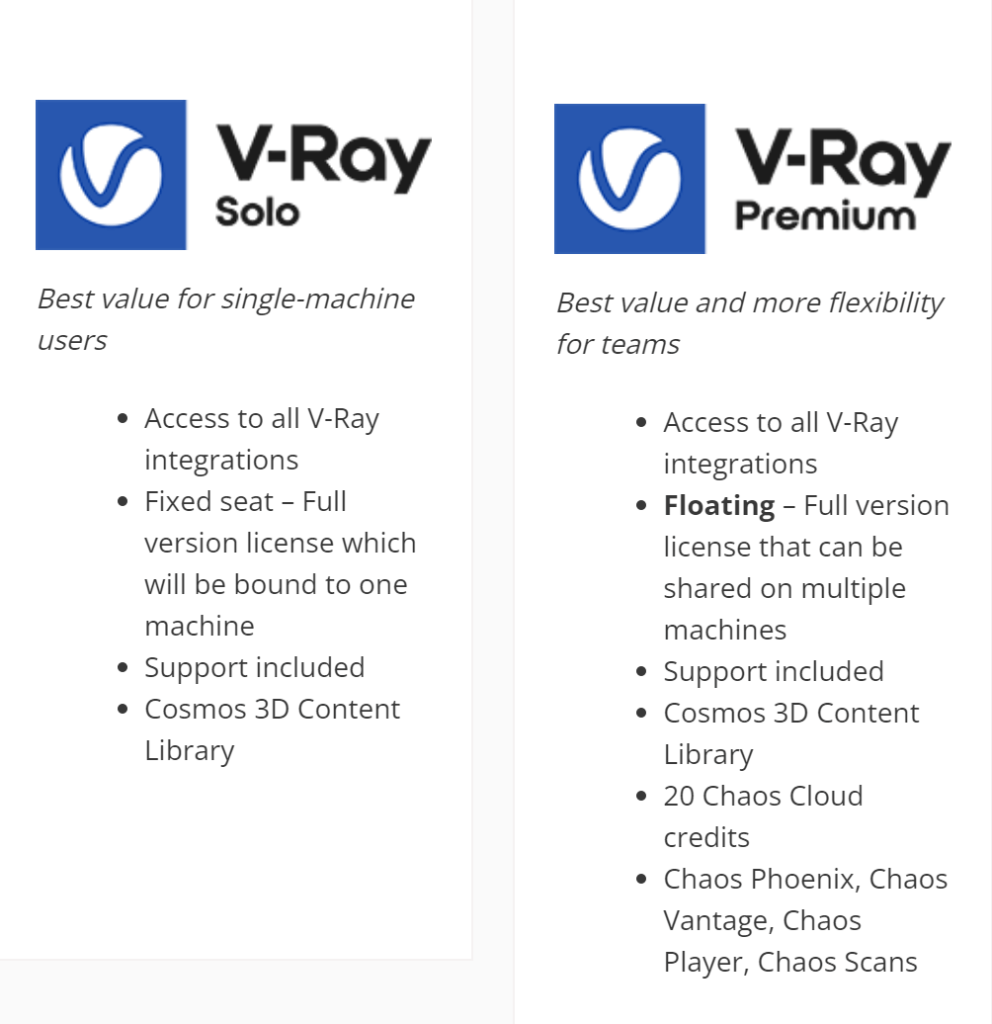 Buy Chaos V-Ray
Premium annual license Online in India
One of the core advantages of Chaos V-Ray Premium is that it enhances the Solo version and it adds a lot of great things. For Solo you have a fixed license on a computer. With Chaos V-Ray Premium, you have a floating license and you can use it on any computer, so you get a lot more flexibility which is always great to have. Aside from that, you are also getting the V-Ray integrations and support, but also the Chaos Cosmos content library.
When you buy Chaos V-Ray Premium annual license in India, you also have 20 Chaos Cloud rendering credits, along with integrations for Chaos Phoenix, Player, Scans and Vantage. It's pretty much the rendering suite you need, combined with a large variety of other tools you can use too. It's exceptional and well worth using, especially if you are very passionate about this tool and the features that it brings to the table. It's unique and different, certainly something you want to pursue as much as you can here.
Buying Chaos V-Ray Premium annual license in India is great if you want to use it for production purposes. You always want to ensure that you have legit keys, since there can be legal issues if you're not using legit keys. So that's why working with a company like Dolphin Computers is ideal, because you get the rightful keys and you never have to worry about any issues. Everything is ready to go, you have all the tools needed for your business to thrive.
The advantage is that once you buy Chaos V-Ray Premium annual license in India, you can easily start using it. The redemption process is very fast and convenient, and you will find everything ready to go and adaptable to your needs. There are always challenges when it comes to improving the process and taking it to the next level, but the results you can obtain are impressive all the time. At the end of the day, Chaos V-Ray Premium is an exceptional rendering tool that can be used in a variety of ways, and it also has stellar integrations and systems in place too. Which is exactly what makes it such an amazing solution for you to explore and use.
Why choose Dolphin Computers to
 buy Chaos V-Ray Premium online?
Making sure that you buy legit Chaos V-Ray Premium licenses in India is very important and Dolphin Computers is here to help! We provide genuine licenses for Chaos V-Ray Premium, and we are committed to offering our customers all the help and assistance that they need. We can also assist with all the necessary integrations.
Now it becomes a lot easier to use Chaos V-Ray Premium, thanks to Dolphin Computers. Getting all these amazing features right at your fingertips is exceptional and it will give you the value and results you always wanted. Our commitment is always to quality and we provide our teams with the tools they need to take everything to the next level.