Description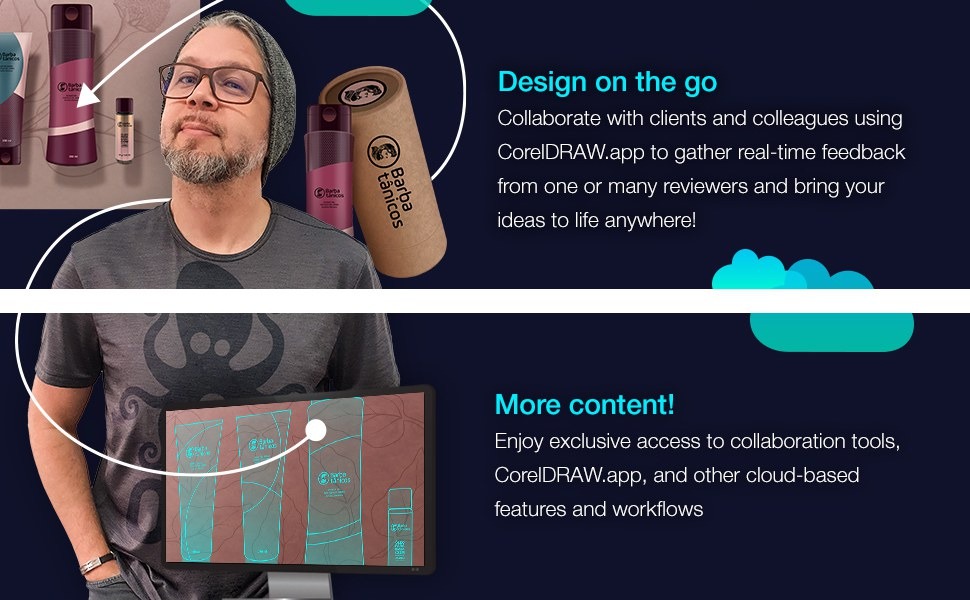 | | |
| --- | --- |
| | |
| Parameter | CorelDRAW Graphics Suite Subscription |
| COST | Pay a small monthly fee or save by paying for a full year, version 2023 and beyond, plus ongoing exclusive subscriber updates! |
| WHO IS IT FOR? | Graphics professionals in small to large businesses who demand the latest and greatest technology |
| WHAT IS IT FOR? | Sales & marketing material • Logos & branding • Signage & vehicle wrap • Large-format printing • Apparel & textile design • Embroidery & engraving • Digital advertising • Maps & schematics • Training tools • Collaborative review & approval • And more |
| WHY CHOOSE IT? | Fully featured graphic design suite for pros • Output control for professional printing & production • Extensive file compatibility • Support the latest technology • Subscriber exclusive updates & content and more |
| WHAT IS INCLUDED? | CorelDRAW • Corel PHOTO-PAINT • CorelDRAW.app • CorelDRAW.app for iPad • Corel Font Manager • CAPTURE (only in Windows) • AfterShot HDR |
| KEY FEATURES & TOOLS (HIGHLIGHTS) | Includes everything in CorelDRAW Graphics Suite 2023, plus: Dynamic asset management • Real-time collaboration • Personalized startup and learning • Cloud template library + additional templates • CorelDRAW Academy • And more |
| FILE FORMAT SUPPORT (HIGHLIGHTS) | GIF, JPG, PNG, BMP, HEIF, CPT, CPX, CMX, FILL, TXT, PDF, DOCX, PSD, TIFF, WMF, EMF, AI, EPS, SVG, DWG, DXF, DCS, CGM, JPEG 2000, TTF, DES, PPT, XLS, PUB, VSD, WebP |
| INCLUDED CREATIVE CONTENT | 7000 clipart, images, and vehicle wrap templates • 1000 high-resolution photos • 1000+ TrueType & OpenType fonts, plus integrated access to 1400+ Google Fonts families • 200+ cloud-based templates • 600+ fountain, vector & bitmap fills |
| PROFESSIONAL CAPABILITIES | Professional print options • Advanced page layout • Multipage view and Multi-asset export • Collaborative review and approval • Symbols sharing and syncing across teams |
| PLATFORM | Windows & Mac, Web, iPad |
Buy CorelDraw Graphic Suite
(Annual License) Online in India
At Dolphin Computers, we pride ourselves on offering our consumers with some of the highest end software products available. Our software offerings consist of anything ranging from Operating Systems, Basic office tools, Document Processing Software, Computer Aided Design Software to Graphic Design Software. Among our most popular offerings is the CorelDraw Graphic Suite.
CorelDraw Graphic Suite is without a doubt one of the most in-depth graphic design software suits available. It comes filled to the brim with an array of useful and highly effective features through which users can make all sorts of art. This is also one of the most resource efficient software of its kind as it's able to perform each individual one of its features while performing smoothly, even while running on systems with low-end hardware.
If you're looking for a way to buy CorelDraw Graphic Suite online in a seamless and hassle-free manner, Dolphin Computers is a place that's certainly going to be worth your while as we have this software available and not only do we allow users to purchase it in a straightforward manner, we also offer other benefits that make it worth purchasing from us.
Why Choose Dolphin Computers for
CorelDraw Graphic Suite Online
If you want to buy CorelDraw Graphic Suite online in India, we're certainly your best bet. Not only do we have this software available with legitimate and proper licensing, we also offer some of the best pricing available for it so you can be certain that you'll be getting the most bang for your buck if you choose to buy from us.
It's also worth highlighting that we offer CorelDraw Graphic Suite lifetime license as well so, if you want to purchase the software for use throughout without any concerns regarding licensing, we have you covered. The product comes along with 1 Year Corel sure maintenance which covers the updates for current version along with new version upgrade.  Alongside all this, we offer technical support as well so, should you ever run into any troubles or difficulties, we're here to assist you with anything you require.